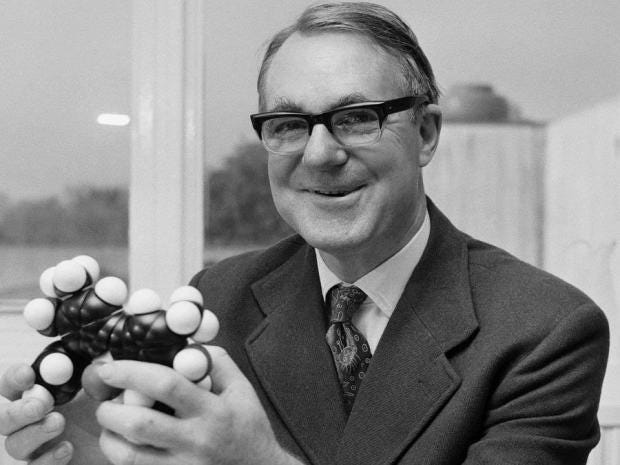 Sir John 'Warcup' Cornforth was an Australian-British chemist who won the Nobel Prize in Chemistry in 1975 for his work on stereochemistry of enzyme-catalysed reactions. Stereochemisty is the study of the spatial arrangement of atoms that form a molecule and how that affects the properties of a chemical compound. This field of study is confusing that even Cornforth had difficulties explaining it, and had once admitted that it is difficult to explain it to a layman.
He met the love of his life over a broken beaker. Busy working in the lab as a second year, Cornforth was approached for help one day by fellow student Rita Harredence, who had cracked a Claisen flask by accident. An accomplished glassblower, John was able to repair the receptacle using a blowpipe. Their eyes met as he returned it to her and, by all accounts, sparks flew. The pair were inseparable from that moment on and married in 1941, having three children together: John, Brenda and Philippa.
This popular scientist is exceptional that even his hearing defect could not deter him from being celebrated. Google's new Doodle marks the centenary of Australian scientist Sir John Warcup Cornforth (1917-2017), winner of the Nobel Prize for Chemistry in 1975.
READ:
History of Aguleri - Indigene Account